History of Four Springs
Four Springs was purchased in 1955 by Elizabeth Boyden Howes for the work of the Guild for Psychological Studies in San Francisco, a group she founded with colleagues Sheila Moon and Luella Sibbald. The first seminars at Four Springs began in 1956.
Working initially with psychologist Fritz Kunkel and later with C. G. Jung, these three women combined their interest in depth psychology with their individual interests in the life and teachings of Jesus, religious studies, mythology and experiential learning.
Dr. Howes also studied with Henry Burton Sharman, a New Testament scholar who developed a method of group discussion guided by study questions designed to empower individual discovery.
In place of the study of religious doctrine developed by others about Jesus, Sharman emphasized thoughtful inquiry into the gospels to discern as far as possible what might derive from Jesus' own religious experience.
Sharman's method was designed to help people engage freshly for themselves gospel texts related to the life and teachings of Jesus. The goal of his method was individual insight, enriched by the observations of others, rather than agreement with the leader or among the group.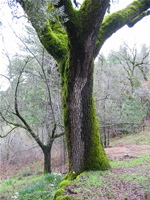 This method was developed further over the years by Guild leaders and participants through the incorporation of myth, wisdom from other traditions, personal expression in art and movement, and the use of music and literature as well as silence and meditation.
Seminars at Four Springs have been offered on a wide range of topics, yet the seminar method remains consistent, utilizing questions and creative expression to facilitate a personal encounter with a story or text.
Work with Sharman's edition of Matthew, Mark and Luke, published as Records of the Life of Jesus, continues to evolve at Four Springs.
Four Springs Today
After forty years of operation by the Guild for Psychological Studies, the availability of Four Springs was extended to other educational organizations in 1996 through the creation of a new nonprofit organization.
Four Springs now offers programs, hosts many Guild seminars, and makes Four Springs available to selected groups and for individual study and retreat.
More information about the Guild for Psychological Studies is available at their website, or call 415.561.2385